"The locusts arrived, spent the night, and in the morning they entered my farm. They destroyed my maize, millet, green grams and even my fodder… If we had known, we would have prepared, organised ourselves, protected our water from droppings and contamination, harvested early" – Farmer, Katitika Village, Kenya 2020 
TomorrowNow.org is proud to announce the launch of Project Locust, a collaborative partnership alongside Kenarava Group Ltd, Digital Green, The Bug Picture and Tomorrow.io to enable inclusive climate action with on-time alerts and just-in-time trainings for farmers, by farmers for the desert locust crisis in the Horn of Africa. As winner of the CGIAR Platform for Big Data Inspire Prize and with support from ICARDA and JDC GRID, we are putting farmers at the center of a mobile solution that leverages the latest weather and farming innovations to ensure communities are equipped with the knowledge they need to proactively prepare for and mitigate the impacts of the desert locust and other climate related disasters.  
Desert Locusts Are A Direct Result Of the Climate Crisis And Those Most Vulnerable Are Least Equipped To Adapt 
If it wasn't for COVID-19, the locust crisis would be the most significant challenge facing Africa this decade and climate triggered events such as locust swarms are predicted to become more frequent, with those most vulnerable the least equipped to adapt and act to protect their livelihoods.
35 million

– the number of people that have suffered food insecurity as a result of this recent infestation across the region (

FAO

)

$8.5 billion

in direct damages and it's not over (

World Bank

)

4.35 million acres

sprayed with pesticides at the cost of $118M (

NatGeo

)

$74.9 million

in estimated paids out to effective households from November 2019 –  March 2020 
We Can Avert Future Climate Crisis With On-Time Alerts And Just-in-Time Trainings 
Our approach has three core components: 

On-Time Alerts

– On-time alerts can help local communities get ahead of the swarms so they can better prepare for (not just suffer the consequences) of an attack. Through a public good partnership with Tomorrow.io, we are leveraging the latest weather/space innovations, including an established suite of digital SaaS tools, to ensure on-time alerts reach communities in time to take action. 

Just In Time Trainings

– Trainings are important to help communicate practical advice and build local capacity. They need to be localized, trusted, and actionable within the timeframe that they are shared. Digital Green and Kenarava Limited have a strong track record for working with farming communities to provide farmer-led trainings that can improve the adoption of farmer innovations, boost yields and improve productivity. Through this project, we're building a digital locust action toolkit for farmers that shares practical knowledge and trainings targeted at on-farm locust and climate action. 

Inclusive Climate Action

– Communities may not be able to prevent a swarm hitting their land today, but there are very practical actions farmers can take to protect their farm and even benefit from the locust (turning crisis into opportunity), especially if they have enough time to convene and prepare. The Bug Picture's pilot that was run earlier this year is a phenomenal example of this where they showed how farmers were capturing enough locusts in one night to protect their farm and benefit financially by selling the rich-in-protein locusts to make locust meal, feeding their own animals and enriching their own soils. Through this project, we are building a digital library of practical locust actions (informed by experts and the community), including digitizing the Bug Picture approach to help scale and promote nature-based approaches to locust control. 
Together, We Can Beat the Desert Locust  
We are a multi-stakeholder group, including: TomorrowNow.org, Kenarava Group Ltd, Digital Green, The Bug Picture, Tomorrow.io and ICARDA who are working together to build a climate action system aimed at delivering community-based, localized insights that will provide millions of farmers with the ability to be better prepared, make crop-saving decisions and directly benefit from desert locust infestations.
We're also continuing to build partnerships across Kenya and around the world to make our vision a reality and welcome others who share our purpose and can contribute to the locust crisis to get in touch. Our approach is not to reinvent the wheel, but to identify and leverage climate action capabilities locally and globally that are already effective and being invested in, and then come together around the locust use case to make sure that farmers everywhere can be prepared for the next climate crisis. 
Project Locust won the Inspire Prize 2020 by CGIAR Platform for Big Data, is supported by ICARDA and also funded by JDC Grid.
Want to Learn More? 
We are just getting started, and there are plenty of ways to learn more and get involved.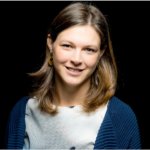 Georgina Campbell Flatter
Georgina leads Climacell.org - an independent 501(c)(3) non-profit dedicated to lifting millions from poverty through improved access to local forecasts. Prior to Climacell.org, Georgina spent a decade at MIT where her research and activities centered around the role of business and entrepreneurship in driving regional economic development and how to tackling systemic poverty issues through prosperity, trade and enterprise. She was a Senior Lecturer with the Technological Innovation, Entrepreneurship and Strategic Management Group at MIT Sloan. Through this role, she developed several new academic courses and co-wrote cases on game-changing principled leaders and ventures driving regional and global change. She also served as Executive Director of the MIT Legatum Center for Development and Entrepreneurship and, prior to that, Director of MIT's Regional Entrepreneurship Acceleration Program (REAP). She began her journey at MIT making gecko-inspired surgical adhesives at the MIT Langer Lab and hydrogen-generating nanoparticles at MIT cleantech spinout, Sun Catalytix. Her thoughts on entrepreneurship are captured in pieces recently published in the FT, Entrepreneur.com, and Forbes. She read Material Science at Trinity College Oxford and Technology and Policy at MIT.