"250 Million People Are Currently At Risk Of Starvation. We Will Never Eradicate Hunger Unless We Tackle Root Cause Issues Like Poor Forecasts."
Our world faces "multiple famines of biblical proportions" according to David Beasley, head of the World Food Programme (WFP), who warned that 30 million people, and possibly more, could die in a matter of months if the UN does not secure more funding and food. 
A food crisis report released this week stated that the number of people in crisis in 2019 was the highest in four years with weather events as a major contributing factor. Even before the pandemic hit, communities across East Africa were facing severe food shortages triggered by unpredictable weather and the worst locust infestations for decades. And, with the destructive realities COVID19's presence rapidly shaking the continent, millions more are at risk. The number of people suffering from hunger globally is estimated to surge from 135 million to more than 250 million and the world desperately seeks solutions. 
But while the UN drives urgency towards aid-based approaches, and promotes the critical role of short-term food aid programs right now to address the imminent threat of starvation and ease the consequences of changing weather patterns, we must not lose sight of the longer-term sustainable solutions for driving progress, and for ending famine once and for all in our lifetimes. 
www.tomorrow.io believes that by working together as a united weather industry, we can make significant contributions to ending hunger. We believe investment in improving the production and utilization of weather forecasts in Africa will make a significant contribution to the critical progress needed to address the food crisis,  and ease the impacts of COVID19 on the most vulnerable communities,  not necessarily slowing the spread of COVID19 but providing hope and opportunity to those suffering from the realities of the virus. 
Here I share a few stories from the field that speaks to this opportunity and Tomorrow.io's approach with the hope of inspiring ideas for partnership and collaboration. 
Better Weather Forecasts Can End Hunger. But We Have Much Work To Do. 
The best way to make this point is through a story. 
On a recent trip to Africa I had the opportunity to spend time with Nabirye and her subsistence farming community in Jinga, Uganda. She works three acres of land  which her family depends on to provide food for the season. She grows crops such as cassava and maize, depending on the season. Most of what she grows is for consumption by the household, with very little surplus trade. Her husband works at the local factory to contribute to their household income which, for a family like Nabrye's is approximately $80 a month. This money is mostly used to buy seed, fertilizer, pesticide, and other essential farming equipment for the season. The remaining funds are used to cover school fees and clothing.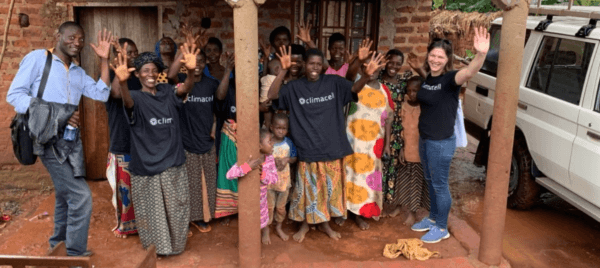 Within about 30 minutes of my arrival, after a very kind welcome, the skies went from blue to grey and it started to rain. We were invited in to Nabirye's house to let the storm pass. It turned very dark. There were no lights. No furniture. While we waited, Nabirye shared with me how important rain is to their community. 
She pointed to buckets outside, and told me how they will use this rain for drinking, bathing and to feed their crops.  She also stressed the importance of "knowing the weather" and described how the rain can be a significant burden, if you don't know it's coming.  "If you know a storm is coming, you must wait and take shelter or you risk getting struck by lightning" she told me. I had seen in the newspapers earlier that day that 6 Ugandan farmers had just been killed by lightning. If you know frost is coming, you must protect your crops at night. If you know rains will be heavy, you must clear flood channels and leave and return from market in time, or you can get stuck for hours if not days due to muddy roads. She also told me that you must spray your insecticide on a dry day. Apparently it can cost over $30 a bottle and take up to a day to apply to one field. If it rains straight after spraying you have not only wasted money and time, you must reapply otherwise you risk pests destroying your crops. Pests are the main reason for crop failure after drought.
The challenge is Nabirye does not know the weather or when the rains are coming.. And therefore is constantly at risk of getting caught by unpredictable weather, along with the 2 billion people in 500 million households living in rural areas who work less than 2 hectares (5 acres) of land still depend on rule of thumb to make critical farming decisions. And this has disastrous consequences. 
Nabirye told me that an important rule of thumb is "three days of heavy rain and we plant". This is a rule of thumb for knowing when the rainy season has started. The idea is that if it rains constantly for 3 days it will likely continue to rain for at least 2 weeks, and therefore the right conditions for planting. Without access to a trusted forecast, this is the most common method for planting. Nabirye used this rule of thumb last January to plant her maize crop for the season. It rained for 3 days straight so she planted. On day 4 it went dry for two weeks. Tragically, this resulted in 30% germination rates and she lost her crop for the season. 
Luckily, for Nabirye and another 2000 farmers in the area, they were able to access more seed and replant for the season. This is because they are part of the One Acre Fund network which is famously known to help subsistence farmers double their yields through better farming practices. But for hundreds of thousands of others this meant risk of famine.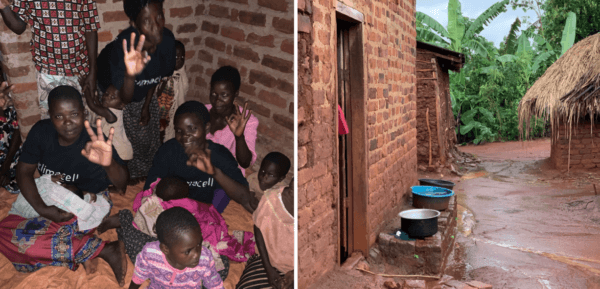 So Why Does She Still Not Use Forecasts? 
"I just stopped trying to look at the weather. It is never right." Farmer, Nairobi, Kenya
The crux question: If daily and seasonal weather information are critical to survival, why is the rule of thumb still the most trusted source of information?  Farmers like Nabirye potentially have access to weather forecasts through many different means. For example, in Uganda, weather forecasts are broadcast daily through radio and TV; Seasonal forecasts are produced through the use of globally funded supercomputers and shared by local governments through monthly bulletins; And there are many last mile governmental, private and ngo organizations who have trusted relationships with farmers that disseminate knowledge through community extension programs, SMS alerts and community gatherings. 
There is not one simple answer here but, from  hundreds of conversations I have had with stakeholders across the weather system, the real challenges and roadblocks fall into four categories. 
Trust:

Nabirye may have access to radio or mobile phone but does not trust the information that is shared enough to make critical farming decisions. She claims it is wrong 50% and therefore would rather rely on the skies and "will of god" to make decisions. She will use lower-risk lower-profit crops to accommodate the risk as it is inevitable that she will experience crop failure at some point. 

Knowledge/Access:

Nabirye may also not have the knowledge to know how to interpret the public forecasts, especially seasonal forecasts. How do you turn statements such as "heavy than normal rains this month" into daily action? She may have the support of an extension worker who can share forecasts and insights but they don't necessarily have the knowledge to understand probabilities or interpret the long range forecasts either, and often struggle to access short term forecasts with enough time (and the right format) to share and for Nabirye to plan and act.  

Resources:

Beyond the farmer, at a systems-level, there is a resource-allocation challenge. This stems from a disconnect between local government and development aid organizations and results in poor infrastructure and a disconnected underutilized hydromet value chain. Why might there be trust and access issues for Nabirye at the last mile? Well, ultimately the reliability of forecasts, especially short-term forecasts, are in question and this is because the infrastructure necessary (to ensure quality output) and activities (to enable trust, knowledge and access) are not being appropriated resources long term. 
On the one hand, local meteorological offices are massively underfunded and under-resourced with low income countries having budgets as little as 500K to invest in hydromet upgrades and maintenance annually compared to the $3B+ the USA government invests annually in weather. This is inevitably going to impact the quality of local forecasts and increase a dependency on NGO support and short term funding vehicles (which are rarely enough to build sustainable high quality solutions). On the other hand, billions of development aid dollars have been spent on improving the hydromet value chain in Africa with billions more likely to be committed under the global climate adaptation agenda. The problem here is that because the funding is often packaged as short term grants, projects have a limited lifespan and are focused more on proof of concept than long term operational value.  Even successful projects rarely scale beyond the pilot phase. 
This comes with risk that impacts lives. According to one blog I read by an international development consultant: "They told me that when they had received weather forecasts by SMS in the past, they had seen the number of deaths on the lake reduce. Since the project and associated funds for the SMS had completed and the forecasts were no longer disseminated to the local community, they had seen the number of deaths on the lake increase again."  

The Consequences of a Disconnected System  
The outcome of this resources disconnect is a broken hydromet value chain in desperate need of upgrades and more economically sustainable solutions. 
Limited local resources has led to limited coverage of on the ground observation (which is < 20% for most African countries). Even if funding is available to install stations, because of the nature of the short term grant structure, the projects lack long-term resources to cover maintenance, calibration and security, or a strategy for sustainability and scale. This has resulted in thousands of broken down or under utilized stations across the continent. This is a widely recognized challenge among the international development community. According to the World Bank,  54% of surface weather stations and 71% upper-air weather stations are unable to capture accurate data.
Lack of resources at a local level also leads to a dependency on general global forecast models which may generously have open-source access but do not have mandates that prioritize emerging market governments, and therefore solutions remain sub-par. These models have poor spatial resolution, are not able to integrate data efficiently in real time, at a local level, or transmit in a timely fashion, and are too expensive to run, which explains the distrust and massive inefficiencies at the last mile experienced by Nabibye. 
It is a combination of this resource disconnect, and consequential lack of knowledge, access, and trust across multiple stakeholders within the system, which together causes failure at the last mile.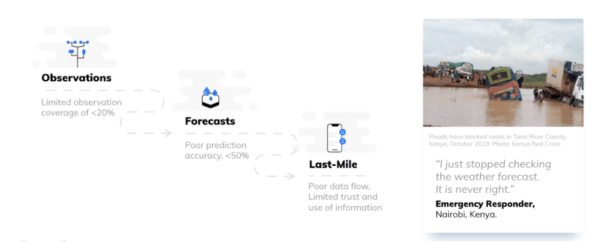 So What Can We/ Are We Doing About It? 
While this is clearly a systems-challenge and we do not have all the answers, Tomorrow.io would like to offer a view that is shaping how we are approaching the opportunity to help Nabirye. www.tomorrow.io has a vision for bringing new lower-cost high-quality innovations to the hydro met value chain. At the heart of our approach is advanced technology and public-private-community partnership, which is how we believe augmentation of the system will be achieved. 
We Can Enhance the Hydro-Met Value Chain Through Innovation 
www.tomorrow.io is a global weather technology company, bringing innovations to every stage of the hydromet value chain, from how weather information is observed, modelled and used. Tomorrow.io offers two business products, our weather API and an operational dashboard, HyperCast. Powered by a AI-powered intelligence engine, Tomorrow.io automates operational decision-making and action plans based on the business impact of historical, real time, and future weather. Unique to the weather industry, Tomorrow.io fuses a proprietary big data collection and analysis platform with exclusive modeling techniques to create MicroWeather OS – an array of products that are providing clients hyper local weather data and invaluable business insights to create the best weather intelligence engine for businesses.
In the context of Africa, www.tomorrow.io is working in partnership with www.tomorrow.io.org, recently spun out as a nonprofit, to focus on helping fix the root issues of reliability, while also ensuring data and insights are accessible and trusted by the end user. By working with the global weather system, together we aim to continue to help African partners leverage new innovations to advance their hydro-met value chain, from new ways to observe weather in remote areas through remote sensing and novel observation points; To high-resolution cloud-based models that significantly reduce cost of computing power and also improve quality; and trusted last mile vehicles to interpret and deliver weather data in a usable format. 
We Can Strengthen The System Through Public-Private-Community Partnership
www.tomorrow.io is committed to enabling best in class market-creating innovations to fit the market needs of Africa but we also know we cannot do this alone and are committed to building the right public private community partnerships to enable sustainable and scalable progress. 
We see local governments, who provide critical foundational weather services for public use, as important partners. By working collaboratively with governments, we can leverage existing public infrastructure and assimilate proprietary observations to augment the experience for custom applications across weather-sensitive verticals from aviation and supply chain management to emergency response and agriculture. With these data capabilities we are able to translate weather data in real time into actionable insights, to help our users reduce weather risk and save critical time and resources. 
We also see massive value in last-mile partnership. Just as we work with our enterprise-level clients to build and support best-in-class weather products to meet their productivity and financial goals, we also have a commitment to working closely with local government, ministries and NGO partners whose mandate it is to meet the needs of the community and could benefit from enhanced weather solutions.  From day one of a partnership, we commit to listening and understanding the weather needs, pain points and jobs to be done by the user so we can develop custom solutions that work. Tomorrow.io.org was founded to address this need within the system to co-build weather solutions specifically for use and empowerment of vulnerable communities.
A New Lens For Addressing The Problem: Focus on Opportunity Not Challenge  
"Serious people laughed at me when I told them I wanted to build a telecommunications network in Africa twenty years ago. They told me all the reasons the project would never succeed,… Somehow I just kept thinking, I know there are challenges but why can't they see the opportunity?," Mo Ibrahim, founder of Celtel, among Africa's largest telecom companies.
There is a powerful idea called the prosperity paradox that is driving us to unlock the opportunities of improved forecasts in Africa; The basic idea is that to tackle poverty, we must focus on prosperity.  For example, instead of focusing on the 600M who lack access to electricity as a sign of immense poverty, we should view it as a vast opportunity waiting to be captured. In the context of weather, this means that instead of focusing on the billions who will suffer from unpredictable weather patterns  as a result of poor access to forecasts, we focus on the vast productivity improvements and opportunity that could come from an informed society, and the prosperity that will result from providing the public and private system with advanced weather forecasting services. 
To do this we must leverage the enormous potential of innovation, or what is known as market-creating innovations. The telco boom in Africa is an excellent example of a market-creating innovation. In 2000, only 2.5% (20M) of the 800M people who lived in Africa had access to a cell phone. But instead of only seeing the obstacles, Mo Ibrahim who founded Celtel, one of African's largest telco companies, saw opportunity and the massive need from the community. To contact your mother in a neighboring village you would have to walk for miles. Access to a phone could change this but the solution would need to be much cheaper and more accessible; For this you need innovation. And that's what Mo did. In just six years, Celtel built operations in thirteen African countries—including Uganda, Malawi, and Sierra Leone—and gained 5.2 million customers. In 2005, Ibrahim sold the company for $3.4 billion.not only creating massive value for the company but also across society. 
Today, the telco industry supports 4.5M jobs and provides 20.5B in taxes , and adds more than $214B of value to the African economy every year, spurring new industries such as mobile financial services, SMS educational platforms and e-commerce. 
Weather information is an equally powerful system input that would boost the economies and help build climate resilient  industries from agriculture to education, aviation, logistics thrive. There is a massive need from millions of what academics would call non-consumers in Africa, like Nabirye who experience huge struggle as a result of not having access to reliable forecasts, as well governments and the private sector who have similar struggles.  
www.tomorrow.io's approach as a collection of market-creating innovations has the potential to transform complex and expensive products into simple and more affordable products, and make them accessible to a whole new segment of people in a society, the non-consumers.  
Weather Can Drive People into Poverty. Knowing The Weather Can Lift Them Out. 
Think about the yield gains and risk reduction for  Nabirye and her community if she had access to and trusted the forecast; Or, the tea plantation owner who could pick his leaves before a storm and save hundreds of thousands of dollars; The rose farmer who could have protected her greenhouse from strong winds because she put the sides down before a storm; Or the commercial farmers who would save money and time and avoided supply chain disruptions with the access of knowledge to enable them to navigate around flooded roads. Think of the job and local wealth creation that could result.
About a third of the variation in annual global crop yields is attributable to fluctuations in temperature and rainfall. A recent McKinsey study suggests that Africa's $100B agriculture industry could experience productivity gains of up to 3x with improved yields and post harvest loss, which improved weather information could unlock.  Remember, there are trillions of dollars in annual GDP variation associated with weather variability so you can only imagine what an economy looks like without the knowledge they need to manage it and the boost they could get by being more informed. Unpredictable weather patterns paired with lack of knowledge is dangerous. While an informed community can adapt,  prepare and optimize.
So while urgent aid-based approaches can be critical in the short term to help address the imminent threat of starvation and deal with consequences of changing weather patterns, long-term investment in improved weather forecasts through public-private-community partnership can equip people with knowledge and tools to lift themselves from poverty for good,  and drive long term sustainable impact at a local level.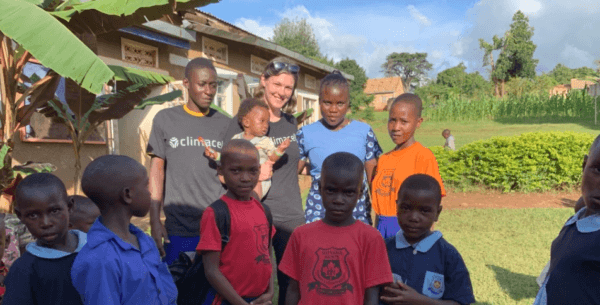 To learn more about ending famine in our lifetime visit us at www.tomorrow.io.org