Following a recent trip to Kenya where Bill met with the TomorrowNow – KALRO team, a blog by Bill Gates highlights the power of weather forecasts and drought-tolerant seeds to help smallholder farmers adapt and thrive amid extreme weather & climate change.
Kenya – A recent blog by Bill Gates titled "On Africa's farms, the forecast calls for adaptation and innovation" provided a front-row seat into the daily experiences of farmers who have embraced innovation to help them remain productive in a changing climate.
TomorrowNow was especially excited that Bill Gates and team got to see the power of weather forecasts and climate-ready seed breeding for farmers first hand.
In Bill Gates' own words, the Co-Chair of the Bill & Melinda Gates Foundation stated that he arrived at Mary Mathuli's farm in rural Kenya expecting to hear her talk about the raging droughts and diminishing crop harvests that many farmers are experiencing throughout Africa.
Instead, to Bill's surprise, the farmer showed off some of the innovations that are allowing her to continue growing crops and earning an income to support her family even in the face of unpredictable weather patterns.
"Mary uses drought-tolerant maize seeds and bean seeds. She pulled out her mobile phone where I could check the local weather and other vital agriculture information and services." – Bill Gates, Co-Chair of the Bill & Melinda Gates Foundation.
Hope
Although smallholder farmers continue to face drought and other extreme weather patterns, there's HOPE that by embracing next generation technologies such as weather intelligence, they are going to adapt and thrive as they continue to feed their communities.
In addition, improved seeds that are drought tolerant ensure that farmers continue to plant crops without suffering losses resulting from adverse weather events such as drought as well as worsening climate change effects.
We are proud to be working with phenomenal partners such as the Kenya Agricultural & Livestock Research Organization and CGIAR to leverage advanced weather data from Tomorrow.io to help both smallholder farmers and seed scientists adapt and act in a changing climate.
Read more in The Blog of Bill Gates.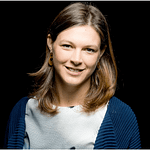 Georgina Campbell Flatter
Georgina is the co-founder and Executive Director of TomorrowNow.org - a global non profit leveraging transformative philanthropy to connect next generation weather and climate technologies with communities in need. Prior to TomorrowNow.org, Georgina spent a decade at MIT where she was a senior lecturer and led global initiatives designed to bridge technology and social impact. Georgina has worked on many innovation initiatives for organisations including: the MIT Legatum Center, MIT REAP, the XPRIZE Foundation, the World Bank, USA Dept of Energy, MIT, Harvard and Oxford University. Georgina is mother of two, passionate about empowering the next generation of STEM leaders, with a focus on women and youth, and is an active member of her local community. She acts as trustee and advisory board member for several charities (The Darwin Centre, Mama Foundation, FOSPs) and is a local Parish Councillor. She read Material Science at Trinity College Oxford and Technology and Policy at MIT.