Ok friends, it's time! It is time to raise the profiles of incredible women in our industry driving change around the world.
In honor of International Women's Day 2021, Tomorrow.io.org is proud to announce the launch of our new interview series, Women of Weather, with two simple goals: 
To provide inspiration to the next generation of women leaders in the climate and weather space
To create a positive and diverse "virtual" perception of women in weather/climate
At the core of Tomorrow.io.org's purpose is ensuring that everyone has access to the weather and climate information they need to act and adapt to our changing climate. To enable this inclusive world, we must promote an inclusive global workforce of change makers. AND, to make this happen, we need more inclusive role models to inspire our future leaders.
These role models do exist today, EVERYWHERE, which is why we are so excited about our WoW launch today! 
We have started by doing fun informal interviews with incredible (seriously incredible!) women we know in the weather space from around the world. We have women represented from across the globe and from many different fields – NGO, private sector, government, TV, agriculture, and at different stages of their careers, to represent the amazing diversity that exists in our industry. 
We are VERY passionate about getting young people engaged in STEM, especially girls and women. Due to lockdowns all around the world, it has become harder and harder for young people to explore and be inspired into new careers. All they have is the internet in front of them and the current "virtual" perception of women in weather is – well, just Google it and see for yourself. Let's just say it's not inclusive of all the amazing women we interact with on a daily basis, and certainly not helpful for inspiring the next generation of global innovators. 
With Women of Weather, we aim to highlight, celebrate and humanize the amazing careers of women all around the world and show just how diverse our industry can be. 
How can you help? Help us share the stories of amazing women using the hashtag, #WoW. And if you have your own amazing weather story, get in touch. We would love to interview you too.
Or, to
get involved right away
, just answer these questions and post a video of yourself on Twitter, Instagram, or your preferred social channel and include the hashtag #WoW so we can retweet.
I am a women of weather – Name, current job title , location, weather
What change do you want to see in the world? What are you doing about it?
What advice would you share with the new gen of innovators?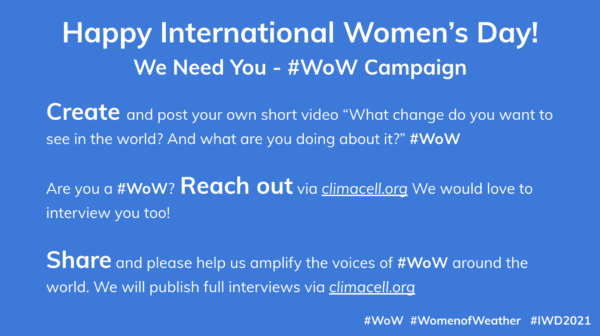 Help us all support and elevate the amazing women around the world working in climate and weather today.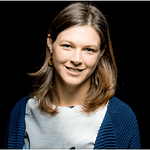 Georgina Campbell Flatter
Georgina is the co-founder and Executive Director of TomorrowNow.org - a global non profit leveraging transformative philanthropy to connect next generation weather and climate technologies with communities in need. Prior to TomorrowNow.org, Georgina spent a decade at MIT where she was a senior lecturer and led global initiatives designed to bridge technology and social impact. Georgina has worked on many innovation initiatives for organisations including: the MIT Legatum Center, MIT REAP, the XPRIZE Foundation, the World Bank, USA Dept of Energy, MIT, Harvard and Oxford University. Georgina is mother of two, passionate about empowering the next generation of STEM leaders, with a focus on women and youth, and is an active member of her local community. She acts as trustee and advisory board member for several charities (The Darwin Centre, Mama Foundation, FOSPs) and is a local Parish Councillor. She read Material Science at Trinity College Oxford and Technology and Policy at MIT.