"Before they attacked our farms, I had only heard about locusts from the Bible. We need training and information about locusts. This will help us better respond to any future infestations" – Farmer Beth Muthoni, Nyandarua, Kenya 2021.
Project Locust (led by TomorrowNow.org) convened a women-focused webinar on 7th October, 2021 to crowd in diverse insights on the opportunities for women farmers to drive climate action through digital-led empowerment. 
The event, themed Women's Empowerment Through Climate Smart Locust Action, explored current trends in women empowerment as viewed from the lens of digital innovation with women empowerment and gender experts from organizations including The World Bank, United Nations Children's Fund (UNICEF), Financing Locally-Led Climate Action Program by the National Treasury of Kenya (FLLoCA), USAID's Kenya Investment Mechanism, Joyful Women Organization, PlantVillage Kenya and JDC-Grid. 
Investing in women has a ripple effect on strengthening economies. This is the time to move from rhetoric to ACTION – Daniella Armoni (Program Director, JDC)
According to gender inequality findings by WFP, 60% of the 811 million people who are food insecure in the world are women and girls, and in nearly two-thirds of countries, women are more likely than men to report food insecurity. Coupled with the fact that women are still much more vulnerable to the negative effects of climate change, it goes without saying that something must be done.  Still, lots of questions remain about the best approaches that should be taken to empower women, with the currently-existing digital gap between men and women adding to the challenges facing women empowerment programs.
Librata Muhati, who leads Joyful Women organization that provides access to finance to 100K women in East Africa, observed that "Women are not a homogenous group, a segmented approach must be taken in understanding their needs to develop climate-smart solutions".
Laura Stanford (Founder, Bug Picture) firmly believes that current challenges can be solved by providing women with adaptive tools that will not only save lives but also create economic opportunities for them, which is a major driver for Project Locust.  
WHAT IF we could reimagine the locust response systems where farmers are at the heart of locust decision making and action – Georgina Campbell Flatter (Executive Director, TomorrowNow.org)
During the event, Project locust partners – Kenarava Ltd, The Bug Picture, Digital Green and TomorrowNow.org shared their learnings gained so far from recent expert interviews and community engagement with women farmers affected by desert locust infestations in 2020 and early 2021.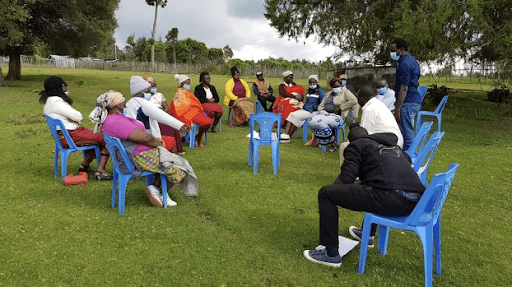 Women farmers are eager to play their part in helping communities deal with climate change-linked disasters like locusts. They can act as first responders whenever disasters like locusts hit their areas. However, to do this, women  must be equipped with the right knowledge, skills and tools to enable them to respond to locust infestations in bolstering national and county-level control and mitigation efforts.
The good news is that both the technology and farmer goodwill exists – we can bridge the currently-existing gaps in coordinated efforts against locusts by leveraging weather intelligence and localized video extension to deliver actionable insights.
As noted by Nancy Omolo (Gender Expert at the FLLoCA program of the National Treasury of Kenya), "Dissemination of weather and information through mobile technology will transform women's lives".
About Project Locust
We are a multi-stakeholder team re-imagining locust early warning and action systems through the inclusive participation of farmers most at risk to the desert locust. 
We are leveraging:
Project Locust won the Inspire Prize 2020 by CGIAR Platform for Big Data, is supported by ICARDA and also funded by JDC Grid.
Want to Learn More?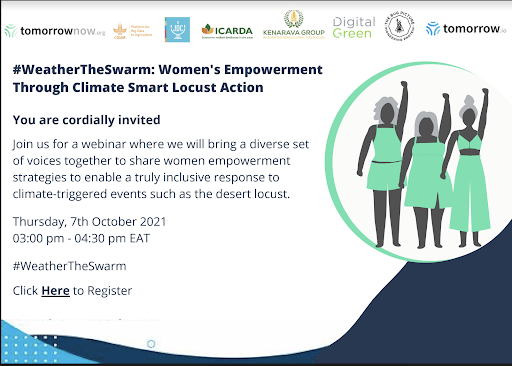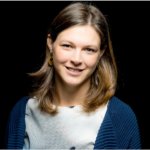 Georgina Campbell Flatter
Georgina leads Climacell.org - an independent 501(c)(3) non-profit dedicated to lifting millions from poverty through improved access to local forecasts. Prior to Climacell.org, Georgina spent a decade at MIT where her research and activities centered around the role of business and entrepreneurship in driving regional economic development and how to tackling systemic poverty issues through prosperity, trade and enterprise. She was a Senior Lecturer with the Technological Innovation, Entrepreneurship and Strategic Management Group at MIT Sloan. Through this role, she developed several new academic courses and co-wrote cases on game-changing principled leaders and ventures driving regional and global change. She also served as Executive Director of the MIT Legatum Center for Development and Entrepreneurship and, prior to that, Director of MIT's Regional Entrepreneurship Acceleration Program (REAP). She began her journey at MIT making gecko-inspired surgical adhesives at the MIT Langer Lab and hydrogen-generating nanoparticles at MIT cleantech spinout, Sun Catalytix. Her thoughts on entrepreneurship are captured in pieces recently published in the FT, Entrepreneur.com, and Forbes. She read Material Science at Trinity College Oxford and Technology and Policy at MIT.