Change and hope is in the air, friends! We have two extremely exciting announcements to share with you today:
First,

we announced our series D funding 

Second,

we changed our name. Tomorrow.io is now officially

Tomorrow.io

and Tomorrow.io.org is

Tomorrownow.org
Both announcements meaningfully impact our next phase of global growth. 
Why Tomorrownow.org? 
The truth is, we didn't choose our new name. It chose us. 
Tomorrownow.org powerfully captures our purpose as a catalytic non profit committed to helping vulnerable communities adapt to the climate changes that are happening now. The time is now to adapt to our changing climate, and to do this we must shift from reactive response to proactive action. In partnership with our founding tech partner, www.tomorrow.io,  we are bringing the latest global weather/space intelligence to the community-level, and working with local leaders across the public, private, NGO sectors to enable lifesaving action before a disaster. 
In other words, we are helping those most impacted by climate change adapt and prepare for tomorrow now. 
Raising Series D funding
I encourage you to read the details directly from Tomorrow.io's CEO in today's announcement but let me share why this really matters to us as Tomorrownow.org. 
This round brings total funding to more than $185 million, enabling Tomorrow.io to move to the next phase and continue pushing the frontiers. You may have seen our announcement in February, Operation Tomorrow Space. In case you missed it, Tomorrow.io is building the first-of-its-kind proprietary satellites equipped with radar, and launching them into space to improve weather monitoring and forecasting capabilities. This is a once-in-a-generation discovery our team has made with decades of value to come, with regions most severely at risk of weather and climate events, being able to access earth data previously unattainable.   
As highlighted in the Washington Post recently, "Through the company's nonprofit arm…the satellite data could flow to areas where improved forecasts are desperately needed, mainly in the developing world," Goffer and Elkabetz said.
As we move through this next phase together, Tomorrownoww.org is ready to bridge Tomorrow.io's catalytic technology with humanitarian action. Whether a lightning storm, flash flood, or mudslide advisory, Tomorrownow.org's sole purpose is to ensure the latest weather/earth intelligence reaches its full potential by serving those most in need, including the poorest people in the world. 
We are excited for this next phase and it's going to take a village. If you're interested in donating to Tomorrownow.org, please reach out through our website or directly. 
Are You Ready To Join Us in Unlocking The Possibilities of Tomorrow for EVERYONE? Let's Go!
Warm wishes, 
Georgie  
Executive Director, Tomorrownow.org
P.S. – DON'T FORGET TO REGISTER FOR CLIMACON NOW!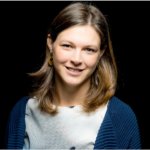 Georgina Campbell Flatter
Georgina leads Climacell.org - an independent 501(c)(3) non-profit dedicated to lifting millions from poverty through improved access to local forecasts. Prior to Climacell.org, Georgina spent a decade at MIT where her research and activities centered around the role of business and entrepreneurship in driving regional economic development and how to tackling systemic poverty issues through prosperity, trade and enterprise. She was a Senior Lecturer with the Technological Innovation, Entrepreneurship and Strategic Management Group at MIT Sloan. Through this role, she developed several new academic courses and co-wrote cases on game-changing principled leaders and ventures driving regional and global change. She also served as Executive Director of the MIT Legatum Center for Development and Entrepreneurship and, prior to that, Director of MIT's Regional Entrepreneurship Acceleration Program (REAP). She began her journey at MIT making gecko-inspired surgical adhesives at the MIT Langer Lab and hydrogen-generating nanoparticles at MIT cleantech spinout, Sun Catalytix. Her thoughts on entrepreneurship are captured in pieces recently published in the FT, Entrepreneur.com, and Forbes. She read Material Science at Trinity College Oxford and Technology and Policy at MIT.