What an inspiring event! On Tuesday, we at www.tomorrow.io.org were lucky enough to present at the weather industry's first ever Weather Intelligence conference, ClimaCon. Throughout the day, we heard from amazing brands such as the NFL, Google, JetBlue, IndriGrid and more on how weather intelligence is changing a number of industries across the supply chain, energy and utilities, on-demand, and more: How sports leagues use predictive weather insights to plan games, keep people safe, and optimize staffing. How logistics companies use weather intelligence to schedule trucking routes, avoid train derailments, and optimize operations. How Uber is improving customer ETAs, training predictive impact algorithms, and aligning promotions with weather. The stories were endless, and all focused on impact, cost savings, revenue optimization, safety, efficiency, and streamlined communication with a single source of weather truth which culminated when Tomorrow.io announced the industry's first All-in-One Weather Intelligence Platform … For Tomorrow.io.org, our session was focused on the opportunities for weather intelligence in Africa, with a focus on agriculture and prosperity. 
Unlocking Potential Globally
For us, the most exciting aspect to the evolution of weather intelligence is the capabilities it unlocks all around the world.  This includes countries like Kenya who are currently being held back due to a lack of actionable weather processes. While this lack of access to forecasts has significant social and economic consequences for farmers, weather intelligence can unlock major opportunities. 
Weather intelligence is part of the future of farming in Africa and can be a turning point for African agricultural sector by helping farmers reduce risk and boost productivity, bringing major efficiencies to the entire supply chain. This is what our session was all about! Building on the exciting product announcements from earlier sessions, we heard from an epic panel of African leaders about how the future of African agriculture can be enabled with weather intelligence to generate wealth, create jobs and drive local prosperity. 
Together, We Can Lift Millions From Poverty
You can see the full recording of our session at ClimaCon here.
In addition,  you can find the key messages below.  Thank you again to our esteemed panelists for an inspiring and hopeful discussion: 
Efosa Ojomo, Global Prosperity Lead, Clayton Christensen Institute; Co-author – The Prosperity Paradox

Dr. Bernard Kiplimo Lagat, Minister of Agriculture, Nandi County, Kenya

Ronald Diang'a Co-Founder, Executive Chairman, Kenarava

Kenneth Chepkwony, Co-Founder, Vice Chairman, Kenarava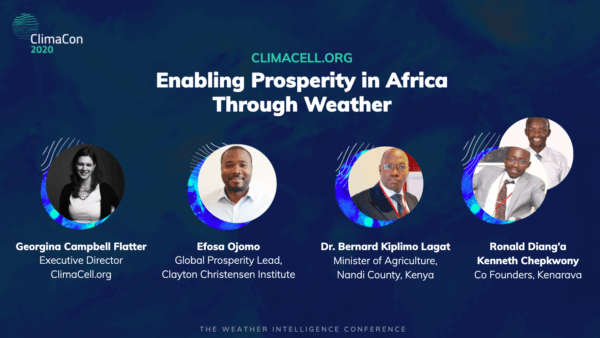 Ready For the Download? 
Here you go….
Agriculture Matters for Africa But It's Being Held Back Due To "Unpredictable Weather" 
There is no doubt that agriculture is a critical enabler of prosperity in Africa. Nandi County is at the forefront. During our panel, we learned from the Minister of Agriculture for Nandi County in Kenya that Nandi is one Africa's major coffee and tea exporters and in turn is creating millions of dollars in local wealth and creating thousands of local well paid jobs. For example, Nandi hosts 15 of Kenya's 66 tea factories which contributes significantly to Kenya's position as the world's leading tea exporter with a total tea export value of USD $1.35B.  
These numbers are reflective of the growing opportunities for agriculture and wealth creation across the continent, with agriculture making up 23% of the GDP ($100 billion) and, in sub-Saharan Africa, it provides work for nearly 60% of the economically active population. 
However, don't let these stats deceive you. Agriculture is far from reaching its full potential with many families dependent on agriculture trapped in poverty.  Much needs to be done to turn the tide. 
The average African farm still only performs at only about 40% of its potential and, although the continent accounts for 60% of the world's arable land, it only contributes 4% to the total output. Export income is critical for the economy yet Africa is still a net food importer, spending some $35 billion on food imports every year, which is projected to increase to $110 billion by 2025. 
Innovative counties such as Nandi have impressive market-driven, public and NGO solutions that are helping farmers boost yield and income, with large investments  channelled into improving seed and farming inputs, improved application of fertilizers, and irrigation technology. 
And yes – these agricultural activities are all critical with aspirations and growing evidence to show their effectiveness at boosting yield, productivity and inclusive prosperity. HOWEVER, the effectiveness of these farmer-first programs is limited and can still vary by up to 50%. 
Why? Weather remains the wild card for all farmers and creates massive inefficiencies across the supply chain. 
For Regina, a tech-forward farmer who runs one of Kenarava's demo farms, weather uncertainty has caused major setbacks. She wastes hundreds of hours a year, replanting or respraying due to an unexpected rain storm; And loses a good portion of her income every year due to wilted crops that she is unable to get to market in time due to a flash flood and blocked road; She is unable to make full use of the irrigation tech she uses due to lack of information to manage it. 
Weather Forecasts Matter for Decision Making
Bottomline, there are hundreds of daily decisions that are taken by farmers (and the supply chain) that rely on the weather and without forecasts you cannot make these decisions. If you're drying your seeds, you need to cover them before a rainstorm. If you're applying fertilizer, you need to plant with moist soils but not just before a rain storm or you will have to reapply. If you're planting, you need to know you will have consistent rains post planting to ensure healthy yields. If you've harvested your crop and intend to transport it to market, you must do so before the rains otherwise you will be blocked by flooded roads. If you're expecting a storm, you check your greenhouse walls are closed and your gutters are clear of leaves to avoid flooding. The list goes on… 
Much like every other business and individual on the planet, farmers today are having to monitor weather patterns much more closely due to unusual seasonal behaviour. The big difference for farmers in Africa is that they do not have the luxury of reliable localized daily forecasts. 
Weather forecasts are currently not good enough to help farmers make these daily decisions and this has major consequences for crop growth, pest management, planting and market access. 
BUT there is hope. Weather no longer needs to be a wildcard. And massive potential can be unlocked with weather intelligence, allowing farmers to shift from reactive to proactive, and generate local prosperity. 

Rains No Longer Need To Be Unpredictable
During ClimaCon, Tomorrow.io launched their 1 Forecast and Insights Templates Library. Why does this matter for Africa? 
1 Forecast: 1F brings together Observations and Models including the "weather-of-things" approach, regional models, CBAM (www.tomorrow.io Bespoke Atmospheric Model), and Global Models – which all feed into Tomorrow.io's proprietary machine learning engine. The result is the most actionable, impactful, hyperlocal weather intelligence forecast for your precise location, industry, and job function. 
Templates Insights Library: www.tomorrow.io have prebuilt operational dashboards and insights across more than 15 industries ready to be turned on in minutes. From there, a dashboard can be selected such as Winter Operations, Cross Wind Derailment, or Rail Yard Management, and specific insights will be shown that can be applied to an operational dashboard. Customers can fully customize everything to your thresholds, protocols, and needs on a minute-by-minute basis. 
www.tomorrow.io is now partnering with us – Tomorrow.io.org, as their 501(c)(3) spin out, to apply 1F and their insights feature for Africa with the goal of providing reliable localized forecasts and insights to boost agricultural prosperity and lift millions from poverty.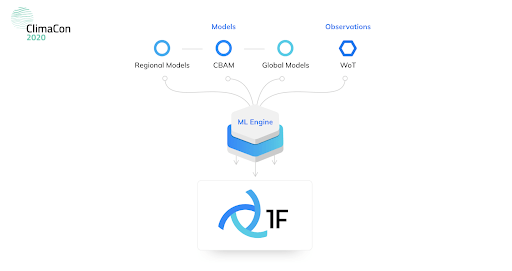 By Working Together We Can Bring Sustainable Change
We must work with farmers to co-build solutions that work for them. We must work together with the public, private and humanitarian sectors to build local capacity. We, Tomorrow.io.org, are working together with Nandi County, Kenarava and other weather, climate and agriculture partners across the continent to bring sustainable and scalable change to the weather industry through localized weather intelligence. 
Why Prosperity Not Poverty? A CounterIntuitive Approach To Beating Hunger. 
Reality check: 650M people in Africa are currently facing food insecurity (that's double the population of the USA). And, in the context of Covid-19, more than 150M Africans could lose all or part of their livelihoods as a result of the pandemic. 400M face the prospect of reduced income, and when 80% of income is spent on food, even a moderate reduction will lead to skipping meals, hunger and worse case, famine. 
When people hear these kinds of heart wrenching statistics, the natural human response is to want to address the immediate need for hunger; to provide gifts in food aid; to help. And while this immediate emergency giving can be lifesaving in the short term, it is not a sustainable solution. During our conversation, Efosa proposed a different abet counterintuitive approach for addressing poverty – prosperity. If you look at where the funding goes today, you start to question – is this the right approach?  $4.3T in official development assistance trying to help poorer countries, and yet 20+ of the world's poorest countries are poorer in 2015 than they were in 1960. More than half the people in poverty live in Africa. Only 18.2% of official development assistance goes towards economic infrastructure. What if we flipped this? What if, instead of focusing on poverty alleviation, we channeled the majority of our resources towards prosperity? This is where market-driven innovations can play their part, as a means for creating good businesses, creating good jobs, lifting people and nations from poverty for good.
www.tomorrow.io.org believes weather intelligence is an enabler of prosperity. Weather is currently forcing people into poverty, while knowing the weather can lift them out and help them help themselves build and sustain prosperous lives.  
Calls to Action!!
www.tomorrow.io.org spun out of Tomorrow.io to ensure inclusive reach of weather intelligence and to unlock possibility everywhere. We are on a mission to close the global weather gap. With advanced weather warnings, people can:
Move to safety and/or p

rotect their homes

A farmer can accelerate harvest

An emergency responder can be standing by to help
And yet, this "preparedness" is not reality for most people today, with 5 billion globally without access to reliable forecasts. We work together with the public, private and humanitarian sectors to make forecasts more reliable, accessible, and useful to everyone. It's time to shift from reactive to transformative action.
Together, we can build a weather-informed climate-resilient world for all.
If you're an entrepreneur or public leader in Africa, we want to hear your story. We want to help you understand how you can use weather intelligence to transform your business or region. 

If you fund projects in Africa, we call on you to think about the prosperity paradox. We are fundraising for local projects right now with African farmers that focus on weather and prosperity. Please reach out as partnership will mean everything to our success.