TomorrowNow's Kenneth Chepkwony spoke at the 'Building climate resilience through digital technologies in Africa' Session of Africa's most influential connectivity event.
Kigali, Rwanda – Kenneth Chepkwony (TomorrowNow's Kenya Project Manager) represented TomorrowNow as a panelist at the session focusing on 'Building climate resilience through digital technologies in Africa' that was hosted by GSMA ClimateTech, AgriTech, Mobile for Humanitarian Innovation and Digital Utilities programmes. He highlighted TomorrowNow's mission, milestones through our various projects and our vision for Africa.
Event Format:
Keynote opening by Max Cuvellier, Head of Mobile for Development
Presentation of trends from the latest GSMA Innovation Round: Anna Colquhoun (GSMA)
Fireside chat: Akanksha Sharma (GSMA), Golala Ruhani (Sida), Phil Outram (FCDO)
Panel Discussion:
Toffene Kama (Mercy Corps Ventures) – Moderator

Xavier Wollenveider (Flowminder)

Kenneth Chepkwony (TomorrowNow)

Michael Koech (AirTel)
Key Learnings:
Community-facing projects must leverage the power of mobile phones as an effective way to deliver climate-smart information to farmers and in order to build trust with farmers, projects should partner with input providers, government extension services and community group leaders.

At TomorrowNow, we are implementing a user-first approach that amplifies farmer and scientist voices to generate climate adaptation solutions that are scalable, localized and cost effective.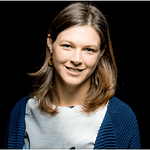 Georgina Campbell Flatter
Georgina is the co-founder and Executive Director of TomorrowNow.org - a global non profit leveraging transformative philanthropy to connect next generation weather and climate technologies with communities in need. Prior to TomorrowNow.org, Georgina spent a decade at MIT where she was a senior lecturer and led global initiatives designed to bridge technology and social impact. Georgina has worked on many innovation initiatives for organisations including: the MIT Legatum Center, MIT REAP, the XPRIZE Foundation, the World Bank, USA Dept of Energy, MIT, Harvard and Oxford University. Georgina is mother of two, passionate about empowering the next generation of STEM leaders, with a focus on women and youth, and is an active member of her local community. She acts as trustee and advisory board member for several charities (The Darwin Centre, Mama Foundation, FOSPs) and is a local Parish Councillor. She read Material Science at Trinity College Oxford and Technology and Policy at MIT.