TomorrowNow.org was among the notable climate adaptation exhibitors at the MercyCorps AgriFin  6th Annual Learning Event.
Nairobi, Kenya – TomorrowNow.org participated in the Mercy Corps AgriFin 6th Annual Learning Event that provided a forum where participants and organizers can share experiences of tested digital technologies and practices that work to enable smallholder farmer resilience.
Themed "Developing smallholder farmer resilience in the face of global issues (COPE.ADAPT.THRIVE)", the event convened various stakeholders including governments, NGOs, donors and private sector players focused on ag-tech, ag-finance and ag-data services targeting small holder farmers.
A full day marketplace where TomorrowNow and other organizations participated as exhibitors, showcased products and services that are focused on delivering solutions to smallholder farmers by leveraging digital innovation.
Here are some of the organizations we engaged:
Apollo Agriculture, Nobuk Africa, One Acre Fund, Bill & Melinda Gates Foundation, Mercy Corps Nigeria, ConnectedFarmer, Kenya Agricultural & Livestock Research Organization, @iLabAfrica, 60 Decibels, Learn.ink, Kenya Space Agency, Hello Tractor, Fadhili Africa, Ethiopian Agricultural Transformation Agency, Ethiopia Ministry of Agriculture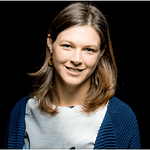 Georgina Campbell Flatter
Georgina is the co-founder and Executive Director of TomorrowNow.org - a global non profit leveraging transformative philanthropy to connect next generation weather and climate technologies with communities in need. Prior to TomorrowNow.org, Georgina spent a decade at MIT where she was a senior lecturer and led global initiatives designed to bridge technology and social impact. Georgina has worked on many innovation initiatives for organisations including: the MIT Legatum Center, MIT REAP, the XPRIZE Foundation, the World Bank, USA Dept of Energy, MIT, Harvard and Oxford University. Georgina is mother of two, passionate about empowering the next generation of STEM leaders, with a focus on women and youth, and is an active member of her local community. She acts as trustee and advisory board member for several charities (The Darwin Centre, Mama Foundation, FOSPs) and is a local Parish Councillor. She read Material Science at Trinity College Oxford and Technology and Policy at MIT.