TomorrowNow Executive Director Georgina Campbell Flatter was a panelist at Tetra Tech's discussion panel on climate resilience at COP 27.
Sharm El Sheikh, Egypt – Georgina Campbell Flatter (TomorrowNow's Executive Director) represented TomorrowNow as a panelist at a COP27 event by Tetra Tech focussing on Artificial Intelligence and Machine Learning to support smallholder farmers and regenerative agriculture.
The panel session focused on how breakthrough technologies could be leveraged to solve the current climate crisis and build resilience among communities across the world. Advanced data and analytics in the food system was identified as a key enabler for transforming food systems to be more resilient, sequester GHGs, and help farmers thrive in a changing climate.
Using specific case studies, a number of presenters highlighted the potential of remote sensing, cloud computing, Machine Learning and AI to transform agriculture. 
Here are the main innovative approaches that were highlighted at the event:
Rabobank's ACORN initiative that links advanced analytics with carbon finance to enable coffee farmers to transition to sustainable and regenerative practices.

6th Grain's work, including their system to identify farmers at risk of crop diseases that deploy BASF retail extension agents to provide targeted training and inputs to reduce the impacts.
The panel discussion was used to answer questions about how the existing innovative approaches can be used to address climate change and climate risks. 
Dr. Boniface Akuku (ICT Director, Kenya Agricultural & Livestock Research Organization) spoke about how his organization has used some of these technologies to help farmers in Kenya.

TomorrowNow's Executive Director focused on some of the mechanisms that governments, institutions, NGOs and other key stakeholders can use to leverage public-private partnerships and data collection for enabling larger-scale and cheaper climate solutions.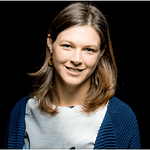 Georgina Campbell Flatter
Georgina is the co-founder and Executive Director of TomorrowNow.org - a global non profit leveraging transformative philanthropy to connect next generation weather and climate technologies with communities in need. Prior to TomorrowNow.org, Georgina spent a decade at MIT where she was a senior lecturer and led global initiatives designed to bridge technology and social impact. Georgina has worked on many innovation initiatives for organisations including: the MIT Legatum Center, MIT REAP, the XPRIZE Foundation, the World Bank, USA Dept of Energy, MIT, Harvard and Oxford University. Georgina is mother of two, passionate about empowering the next generation of STEM leaders, with a focus on women and youth, and is an active member of her local community. She acts as trustee and advisory board member for several charities (The Darwin Centre, Mama Foundation, FOSPs) and is a local Parish Councillor. She read Material Science at Trinity College Oxford and Technology and Policy at MIT.