TomorrowNow conducted a training to equip Kenyan software engineers to build GIS-ready weather maps using the Tomorrow.io API. 
Kenya – TomorrowNow, through the HORUS Project that's funded by the Bill & Melinda Gates Foundation, conducted a training event with software engineers from the Kenya Agricultural & Livestock Research Organization (KALRO).
The purpose of the training session was to provide them with the skills needed to build GIS-ready weather maps using the API belonging to our founding tech partner Tomorrow.io.
The training was aimed at fostering the participants' technical development, equipping them with cutting-edge skills, and enabling the creation of solutions that can significantly benefit smallholder farmers in Kenya.
With this skill set, the software engineers can build applications to show weather patterns, facilitate strategic decision-making in agriculture, enhance disaster management efforts, and contribute to climate change studies, making a profound impact on their communities and beyond.
Key Themes
Geographic Information System (GIS) is a technology revolutionizing the way we understand, interpret, and visualize spatial data.
Integrating GIS with in-time, and agriculturally interpreted, weather data facilitates real-time monitoring and predictions, aiding various sectors, from agriculture and tourism to disaster management. 
Leveraging this, KALRO is looking into in-time maps based on the Tomorrow.io API which offers highly localized (~4km x 4km), accurate, and real-time weather data across East Africa.
The training event focused on enhancing the utility and value of the high resolution forecast weather content over East Africa under the following key themes:
In-Depth Understanding of the Tomorrow.io API
KALRO engineers utilized the Tomorrow.io API and gained knowledge and experience pulling various weather parameters like temperature, rainfall, and wind speed at different geographical locations.
API Integration
The software engineers are now working on incorporating the Tomorrow.io API into an operational process that collects current weather information systematically over all of Kenya and/or select counties.
Data Processing & Visualization
Weather data models convert raw data from various sources into useful content that can be organized as agro weather advisory by farmer-facing organizations such as KALRO into useful content that's actionable.
Importantly, the data is location specific and is processed into weather information to be compatible with GIS and the likely web-based platforms with SMS integration for efficient dissemination to farmers.
Once the data is GIS-ready, on-line visualizations can show weather forecasts and enable panning and zooming features as necessary (See below).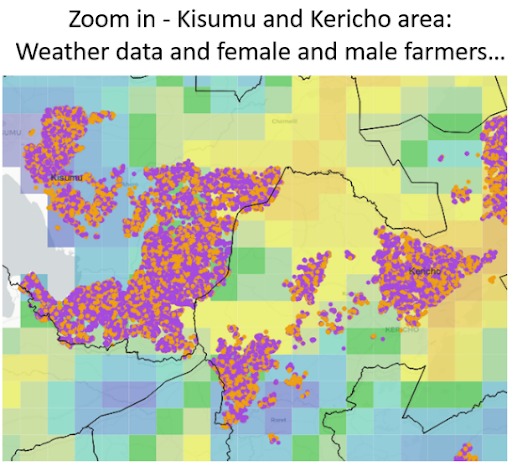 To keep the weather maps updated in real-time, KALRO software engineers will implement a mechanism to hit the Tomorrow.io API at regular intervals. This data can then be dynamically processed and visualized on the GIS platform.
The KALRO-TomorrowNow Partnership
TomorrowNow is currently working with KALRO to deliver in-time weather intelligence to millions of farmers in Kenya by providing access to GIS-ready weather data derived from the Tomorrow.io API.
We are leveraging KALRO's Digital Climate Advisory Services (DCAS), an initiative aimed at providing localized agronomically interpreted weather information to farmers – via SMS – to optimize their agricultural practices.  
Accurate real-time and forecasted weather data can be used to predict agricultural outcomes like crop yield, soil health, and pest prevalence – information valuable to agricultural markets and input providers.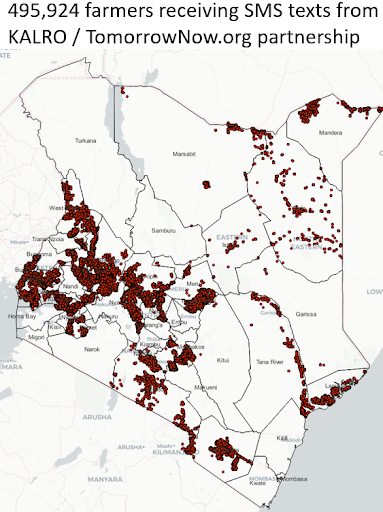 Furthermore, the geospatial visualization of these weather parameters enables KALRO to deliver targeted, geographically relevant insight to extension and other on-farm support people.
As such, the fusion of weather data and GIS greatly enhances the efficacy and reach of DCAS, empowering farmers across Kenya.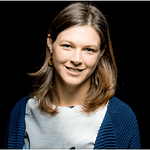 Georgina Campbell Flatter
Georgina is the co-founder and Executive Director of TomorrowNow.org - a global non profit leveraging transformative philanthropy to connect next generation weather and climate technologies with communities in need. Prior to TomorrowNow.org, Georgina spent a decade at MIT where she was a senior lecturer and led global initiatives designed to bridge technology and social impact. Georgina has worked on many innovation initiatives for organisations including: the MIT Legatum Center, MIT REAP, the XPRIZE Foundation, the World Bank, USA Dept of Energy, MIT, Harvard and Oxford University. Georgina is mother of two, passionate about empowering the next generation of STEM leaders, with a focus on women and youth, and is an active member of her local community. She acts as trustee and advisory board member for several charities (The Darwin Centre, Mama Foundation, FOSPs) and is a local Parish Councillor. She read Material Science at Trinity College Oxford and Technology and Policy at MIT.