Global Crisis
If it wasn't for COVID-19, the locust crisis would be the most significant challenge facing Africa this decade:
10%  of the world's population is under threat of hunger
35 million – the number of people that have suffered food insecurity as a result of this recent infestation across the region (FAO)
$8.5 billion in direct damages and it's not over (WorldBank)
4.35 million acres sprayed with pesticides at the cost of $118M (NatGeo)
$74.9 million in estimated paids out to effective households from November 2019 –  March 2020
In addition to the specific locust crisis, climate-triggered events such as this are predicted to become more frequent in an ever-changing climate.
"Although desert locusts have been here since biblical times, recent intense outbreaks can be linked to anthropogenic climate change and the increased frequency of extreme weather events" – Nature Magazine
There is Hope
Farmers can use weather intelligence to mitigate risk and seek opportunity at scale by focusing on two areas of opportunity:
1. On Time Alerts And Insights: We here at TomorrowNow.org are adapting Tomorrow.io's scalable alerting system for public good
2. Just in Time Trainings: We Are working with partners including Digital Green  to create digital content that teaches other farmers what 'on farm ' climate action they can take to protect and empower their communities (Digital Green).

Learning From Farmers
Having seen what certain farmers in Africa have accomplished in the past 18 months,  we have witnessed first hand the impressive ability to turn the climate crisis into opportunity.
"There were times I could collect 10 kilos in just a few hours. This was very helpful as we had missed rains for a long time and we didn't have food. We used the money from the locusts to buy food for our families."  – FARMER who participated in The Bug Picture Project
Through a 6 week pilot in northern Kenya in early 2021 led by the Bug Picture, 4,300 kg of live locusts were harvested by community members and $2,000 paid out in cash-for-work. The live locusts were processed into locust meal which is rich in protein ready for inclusion in animal feed, and compost which is rich in nitrogen. These agricultural inputs are critical to farmers and expensive to purchase in the market.
"Predictive data would allow our teams to move IN FRONT of the swarms, empowering more farmers and creating far more impact" – Laura Stanford, CEO The Bug Picture
Beating the Locusts Together
Community-based, localized insights will provide millions of farmers with the ability to be better prepared, make smarter, crop-saving decisions and directly benefit from desert locust infestations and help avoid future climate crisis with on-time alerts and just in time training. In addition, leveraging Tomorrow.io's all in one platform for public good will give us the competitive advantage we need to stay one step ahead and #weathertheswarm. 

To learn more about the locust crisis and how you can get involved see the links below: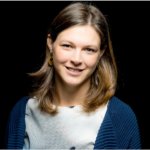 Georgina Campbell Flatter
Georgina leads Climacell.org - an independent 501(c)(3) non-profit dedicated to lifting millions from poverty through improved access to local forecasts. Prior to Climacell.org, Georgina spent a decade at MIT where her research and activities centered around the role of business and entrepreneurship in driving regional economic development and how to tackling systemic poverty issues through prosperity, trade and enterprise. She was a Senior Lecturer with the Technological Innovation, Entrepreneurship and Strategic Management Group at MIT Sloan. Through this role, she developed several new academic courses and co-wrote cases on game-changing principled leaders and ventures driving regional and global change. She also served as Executive Director of the MIT Legatum Center for Development and Entrepreneurship and, prior to that, Director of MIT's Regional Entrepreneurship Acceleration Program (REAP). She began her journey at MIT making gecko-inspired surgical adhesives at the MIT Langer Lab and hydrogen-generating nanoparticles at MIT cleantech spinout, Sun Catalytix. Her thoughts on entrepreneurship are captured in pieces recently published in the FT, Entrepreneur.com, and Forbes. She read Material Science at Trinity College Oxford and Technology and Policy at MIT.