Meet Ezinne…
#WOW, what an inspiration! Every young person should watch this. 
Interested to understand how space and impact here on earth are related? Look no further. I had the honour and pleasure of chatting with Ezinne recently, covering fascinating questions such as: What change do you want to see in the world? Tell me about a typical day in the life of you? What advice would you give your younger self?
Ezinne Uzo-Okoro is a the Assistant Director of Space Policy, OSTP (Office Science Technology Policy) at the White House and former NASA executive who has built, managed, and reviewed over 60 spaceflight programs in over 16 years representing $9.2 Billion in total program value to NASA. She builds spacecraft and also helps to foster growing food in extreme environments so that we can potentially grow food in space.
About #WomenofWeather #WOW
Help Us Inspire Future Generations of Female Weather and Climate Innovators 
Through this #WOW series, we are celebrating and humanizing the amazing careers of women all around the world and showing just how diverse the weather and climate space can be.  Help us share stories of hope and progress far and wide so we can raise awareness of the incredible work of female change makers and inspire future generations of weather and climate innovators globally. See here to learn more and get involved.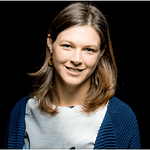 Georgina Campbell Flatter
Georgina is the co-founder and Executive Director of TomorrowNow.org - a global non profit leveraging transformative philanthropy to connect next generation weather and climate technologies with communities in need. Prior to TomorrowNow.org, Georgina spent a decade at MIT where she was a senior lecturer and led global initiatives designed to bridge technology and social impact. Georgina has worked on many innovation initiatives for organisations including: the MIT Legatum Center, MIT REAP, the XPRIZE Foundation, the World Bank, USA Dept of Energy, MIT, Harvard and Oxford University. Georgina is mother of two, passionate about empowering the next generation of STEM leaders, with a focus on women and youth, and is an active member of her local community. She acts as trustee and advisory board member for several charities (The Darwin Centre, Mama Foundation, FOSPs) and is a local Parish Councillor. She read Material Science at Trinity College Oxford and Technology and Policy at MIT.