www.tomorrow.io, the world's weather intelligence platform, completed a 24-hour hackathon yesterday to build a predictive locust impact solution that also links directly with farmers and pastoralists. 
The worst locust upsurge in at least 25 years is hitting parts of Africa, the Arabian Peninsula and Western Asia, and over 40 million people who are already food insecure find their food supply and livelihoods threatened. Building on their Data Development Partnership with the World Bank, Tomorrow.io has taken on the challenge of adapting their weather intelligence platform and advanced predictive weather technology to develop the capability to manage and mitigate the spread of locusts.
The World Bank recently approved an Emergency Locust Response Program to preposition up to $500 million to support its client countries that are affected by the growing locust crisis. The program is designed to complement the ongoing efforts led by the Food and Agriculture Organization of the United Nations (FAO). One element of that program will help countries strengthen their preparedness—e.g., surveillance, early warning, and rapid response systems so they are better prepared to combat future outbreaks. This is an area where the tech sector and big data can come up with innovative solutions, and a hackathon is a great way to start.
"FAO and the IGAD Climate Prediction and Application Center and partners are leading efforts on early warning, monitoring, assessment and control systems" said Erick Fernandes, Agriculture Observatory, World Bank. "We should focus on expanding their efforts by testing the latest technology and analytical approaches and build these bottom-up, with the need of farmers and national decision-makers in mind."
Using the hackathon model, Tomorrow.io's team of meteorologists, data scientists and product engineers from across the world dedicated 24 hours to this critical challenge. Activities leading up to the event involved problem scoping and sharing of insights by experts from the World Bank, FAO, and others.  Critical input was also received from members of the development sector such as the Red Cross as well as African farmers and pastoralists.  During the event, rapid product iteration took place based on real time inputs from African farming and emergency response community members, leading to a community-built solution with the goal of being complementary and additive to existing solutions.
This user-centric process exemplified by the hackathon is representative of Tomorrow.io's product design approach and was well received by the farmers who participated in the process, "We are pleased to have our voices inform the development of solutions to improve our productivity and income. We as farmers have important ideas to contribute and must be a part of the solution, not just a recipient of the solution", Ronald Diang'a, Kenarava Group.
In 24 hours, Tomorrow.io was able to adapt their suite of advanced weather products and add a locust layer to their dashboard and decision-making tool that consists of a suite of historical, real-time, and predictive models and software. These include a hatching index, land surface model, and locust trajectory model. Of course, there is only so much one can achieve in 24 hours. "The biggest win from these 24 hours is that we have clearly demonstrated the opportunity for Tomorrow.io's advanced technology to contribute to the locust crisis, and also the value of our user-centric design approach to generate innovative solutions that work for farmers" emphasizes Georgina Campbell Flatter, who led Project Locust at Tomorrow.io's hackathon. "Now the hard work starts. We need to continue to build local partnerships with critical stakeholders who can help us shape, test and implement a product that serves their needs and is additive to existing solutions in use". 
www.tomorrow.io, working with the World Bank team, will now scope out activities to engage a broader set of stakeholders and strengthen design with local input. "We were looking to see how granular the information on locusts can be and if we can have a direct feedback loop with farmers," said Melissa Williams, Senior Rural Development Specialist at the World Bank. "We're excited that the collaboration between the World Bank's Development Data Partnership, AG Observatory, and Tomorrow.io can have practical applications to an investment program and let us explore how we can work together to support our client governments and other stakeholders and provide real value to farmers." 
www.tomorrow.io's mobile friendly solutions are being shaped to overcome three major challenges. First, Tomorrow.io's historical and predictive weather technology will highlight hyperlocal areas to be sprayed with pesticides where locust eggs and populations are likely to grow quickly, significantly reducing any unnecessary and harmful spraying to people and livestock. Second, Tomorrow.io's trajectory model will show where existing swarms of locusts are likely migrating to next, updating in real-time and with the ability for people to send SMS confirming locust locations via crowdsourcing. Finally, alerting features will allow for early warnings to farmers and communities well in advance of incoming swarms with recommendations on what action needs to be taken and when. Through this hackathon, Tomorrow.io demonstrated these capabilities. Tomorrow.io continues to actively seek partners who can contribute to our collective vision for bringing innovation to answering the locust outbreak as well as further pest- and meteorological-related challenges in the future.
www.tomorrow.io's product team receiving live feedback from Kenyan farmers:
Please contact us here, if you are interested in a demo of our locust product or if you would like more information on our work to fight the locust and support farmers.
About Tomorrow.io: 
www.tomorrow.io – The World's Weather Intelligence Platform, is powering actionable weather insights all across the globe. Tomorrow.io's mission is to help people and organizations manage their weather related challenges with the best information and insights. Unique to the weather industry, Tomorrow.io fuses a proprietary big data collection and analysis platform with exclusive modelling techniques to create MicroWeather OS – an array of products that are providing clients hyper local weather data and invaluable business insights to create the world's leading weather intelligence engine for businesses.
www.tomorrow.io's patented MicroWeather technology engine is powered by Weather of Things data – wireless signals, connected cars, airplanes, drones and IoT devices. This data is combined with proprietary AI-driven models to help people and industries to manage their weather-related challenges that impact everything from operational efficiency to profitability, safety and the bottom line.
About Tomorrow.io.org: 
www.tomorrow.io.org is a nonprofit private charity that seeks to address the urgent global need for lifesaving, life-transforming weather information, and ensure useful weather information is accessible to anyone, anytime, and anywhere in the world. Tomorrow.io.org works in partnership with their commercial operation, Tomorrow.io, a global leader in cloud-based weather technology, and with public and private partners, to deliver sustainable best-in-class weather solutions to the 5 billion people living in regions where traditional technologies do not reach.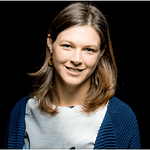 Georgina Campbell Flatter
Georgina is the co-founder and Executive Director of TomorrowNow.org - a global non profit leveraging transformative philanthropy to connect next generation weather and climate technologies with communities in need. Prior to TomorrowNow.org, Georgina spent a decade at MIT where she was a senior lecturer and led global initiatives designed to bridge technology and social impact. Georgina has worked on many innovation initiatives for organisations including: the MIT Legatum Center, MIT REAP, the XPRIZE Foundation, the World Bank, USA Dept of Energy, MIT, Harvard and Oxford University. Georgina is mother of two, passionate about empowering the next generation of STEM leaders, with a focus on women and youth, and is an active member of her local community. She acts as trustee and advisory board member for several charities (The Darwin Centre, Mama Foundation, FOSPs) and is a local Parish Councillor. She read Material Science at Trinity College Oxford and Technology and Policy at MIT.