"Don't be afraid, just be conscious of what you want that really gives you the strength to overcome the difficulties and be sure that you will find others that will help you."
Celeste Saulo PhD, Director of the Argentinean National Meteorological Service (SMN) and the First Vice-President of the World Meteorological Organization (WMO)
#WOW, what an inspiration! Every young person should watch this. 
Meet Celeste…
I am thrilled to share with you our latest #WOW interview with Celeste Saulo, Director of the Argentinean National Meteorological Service (SMN) and the First Vice-President of the World Meteorological Organization (WMO).   
I was truly humbled by Celeste's passion for meteorology and drive to make the world a better place. 
Why are early warning systems important to society and how do we make them more accessible? 

Where are the biggest opportunities for weather and climate innovation? 

What advice do you have for young innovators?  

What change do you want to see in the world and why? 
These are just a few of the questions we covered. Each answer was filled with genuine passion, practical advice and important inspiration for us all as we continue to find ways to work together to enable a more climate resilient and equal world.  
We at TomorrowNow.org share Celeste's passion for equality in weather. Find out more about what we are doing to enable inclusive climate action and how you can get involved here! 
About #WomenofWeather #WOW
Help Us Inspire Future Generations of Female Weather and Climate Innovators 
Through this #WOW series, we are celebrating and humanizing the amazing careers of women all around the world and showing just how diverse the weather and climate space can be.  Help us share stories of hope and progress far and wide so we can raise awareness of the incredible work of female change makers and inspire future generations of weather and climate innovators globally.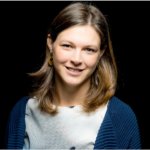 Georgina Campbell Flatter
Georgina leads Climacell.org - an independent 501(c)(3) non-profit dedicated to lifting millions from poverty through improved access to local forecasts. Prior to Climacell.org, Georgina spent a decade at MIT where her research and activities centered around the role of business and entrepreneurship in driving regional economic development and how to tackling systemic poverty issues through prosperity, trade and enterprise. She was a Senior Lecturer with the Technological Innovation, Entrepreneurship and Strategic Management Group at MIT Sloan. Through this role, she developed several new academic courses and co-wrote cases on game-changing principled leaders and ventures driving regional and global change. She also served as Executive Director of the MIT Legatum Center for Development and Entrepreneurship and, prior to that, Director of MIT's Regional Entrepreneurship Acceleration Program (REAP). She began her journey at MIT making gecko-inspired surgical adhesives at the MIT Langer Lab and hydrogen-generating nanoparticles at MIT cleantech spinout, Sun Catalytix. Her thoughts on entrepreneurship are captured in pieces recently published in the FT, Entrepreneur.com, and Forbes. She read Material Science at Trinity College Oxford and Technology and Policy at MIT.