TomorrowNow partners with Tomorrow.io to showcase the opportunity of weather intelligence for food systems transformation at the Africa Climate Summit as an exhibitor, and hosts a side event about weather intelligence. 
Nairobi, Kenya – TomorrowNow.org shared their vision and progress at the Africa Climate Summit #ACS23 as an exhibitor alongside tech partner Tomorrow.io, and hosted a side event in partnership with Tomorrow.io, Regen Organics & the Kenya Agricultural & Livestock Research Organization (KALRO).
We welcomed visitors to the TomorrowNow Booth 51, including government officials, investors, development partners, climate adaptation stakeholders and representatives from farmer-facing organizations who were eager to learn more about how they can benefit and contribute to our collective vision in East Africa.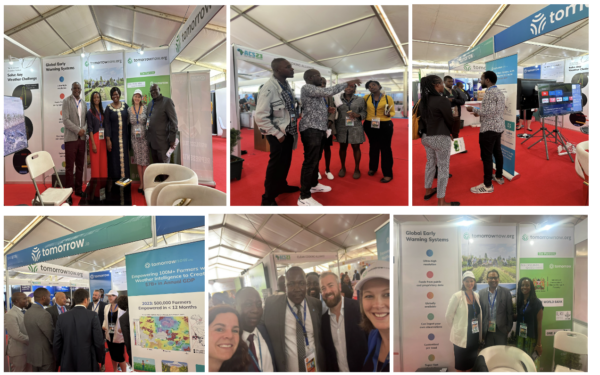 "Your high resolution improved weather data is a game changer. DRSRS is keen to harness this opportunity to improve our range of services to the Kenyan public" – Christine Onguru, Kenya Directorate of Resource Survey and Remote Sensing (DRSRS).
Themed "Transforming Africa's Food System through Weather Intelligence and Partnership", TomorrowNow's side event crowded in the perspective of public, private and NGO leaders to highlight cutting-edge space and generative-AI technology and transformative financing being embraced in Kenya to transform weather and climate information services.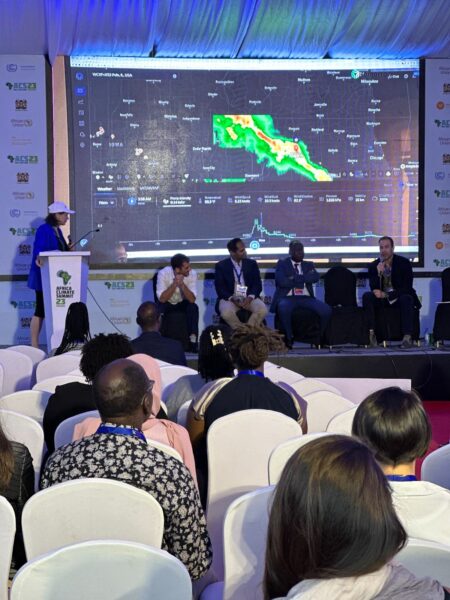 The event constituted a panel discussion that provided sharp focus to current active partnerships that are addressing weather related challenges faced by farmers, #FoodSystems stakeholders and researchers across the continent in creating a more resilient, sustainable, and food-secure future for Africa.
Speakers:
We believe in the power of the "story of self", which drives us all in our mission to act towards improving lives – this is why our speakers began the session by answering the question "What's your climate story?"
"Coming from a family of farmers, I continue to be inspired by emerging tech to help communities adapt to climate change" – Ani Vallabhaneni, Co-founder, Re-Gen Organics, Sanergy
While reflecting on the progress that's been made by TomorrowNow's partnership with KALRO that has so far linked 500k+ smallholder farmers with next generation weather intelligence, the panelists agreed that usefulness and accessibility of weather data are critical factors to ensure that last mile users benefit most.
In addressing the above subject, Rei Goffer shared about the steps that his organization and other private sector stakeholders have taken to improve the accuracy of global weather forecasting, including launching weather satellites to space.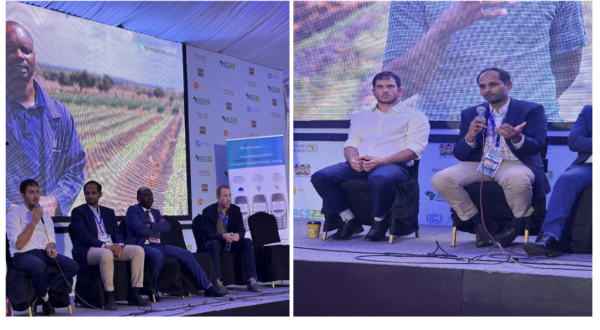 TomorrowNow's Philip Frost spoke about our experience leading Project Osiris funded by The Bill & Melinda Gates Foundation and how our recent partnership with Kenya Space Agency is a first step towards enabling equitable access to high quality weather services by African communities.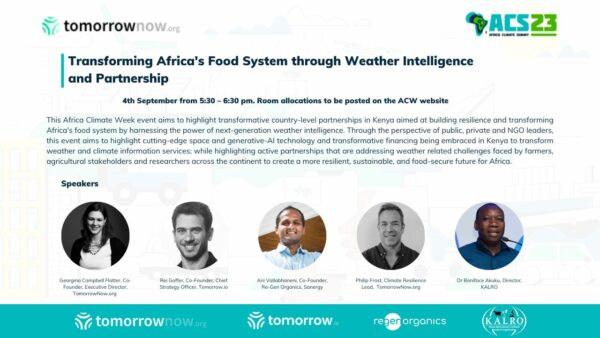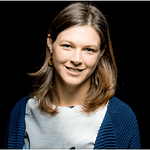 Georgina Campbell Flatter
Georgina is the co-founder and Executive Director of TomorrowNow.org - a global non profit leveraging transformative philanthropy to connect next generation weather and climate technologies with communities in need. Prior to TomorrowNow.org, Georgina spent a decade at MIT where she was a senior lecturer and led global initiatives designed to bridge technology and social impact. Georgina has worked on many innovation initiatives for organisations including: the MIT Legatum Center, MIT REAP, the XPRIZE Foundation, the World Bank, USA Dept of Energy, MIT, Harvard and Oxford University. Georgina is mother of two, passionate about empowering the next generation of STEM leaders, with a focus on women and youth, and is an active member of her local community. She acts as trustee and advisory board member for several charities (The Darwin Centre, Mama Foundation, FOSPs) and is a local Parish Councillor. She read Material Science at Trinity College Oxford and Technology and Policy at MIT.