TomorrowNow and the Kenya Space Agency have launched a new partnership to jointly leverage the power of space data to support the Kenyan government, key stakeholders and farmers for food security and climate adaptation.
Kenya – TomorrowNow.org & Kenya Space Agency (KSA) have signed a Letter of Intent (LOI)  to kick off partnership activities to jointly provide space-derived data decision support to stakeholders in agriculture to enhance food security and build climate resilience
The partnership agreement was signed by our Kenya-based team, and the KSA  Ag. Director General/CEO Brigadier Hillary Kipkosgey at the Kenya Space Agency HQ in Nairobi, Kenya.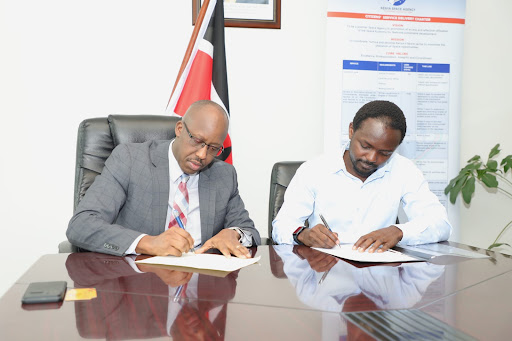 The announcement comes at a time when stakeholders across the world are acknowledging the need to think differently about how we are going to ensure that communities adapt and act in a changing climate – there's overwhelming evidence that space holds many of the answers to some of humanity's toughest challenges.\
The partnership brings together the charitable mission & purpose of TomorrowNow.org as well as the official mandate of the Kenya Space Agency to:
Accelerate space data utilization

for food security and climate resilience

Seek and actualize data partnerships

with notable technology providers such as our founding tech partner Tomorrow.io to access and leverage space data for humanitarian benefit

Conduct partnership activities to reach 100 million farmers

with next generation weather intelligence by the year 2030 as part of the

AIM4C initiative

that TomorrowNow and KSA are a part of
While speaking about the new partnership, the Kenya Space Agency's Director General Brig Hillary B Kipkosgey said, "The signing of this LOI is a first step that sets into motion the process of working together with TomorrowNow in ensuring that cutting-edge space technology efficiently supports the Kenyan government's decision making and benefits grassroots communities".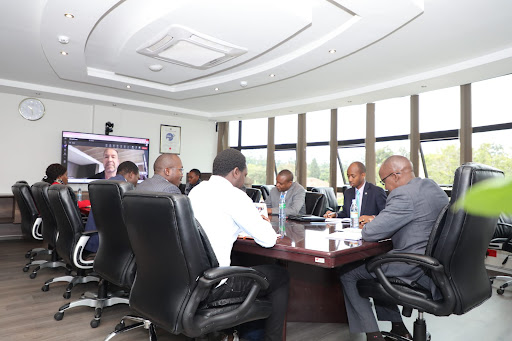 The remarks were echoed by our Executive Director Georgina Campbell Flatter who asserted the commitment of TomorrowNow and its partners to harness opportunities in space data utilization to accelerate inclusive climate adaptation and uplift underserved communities in Africa.
Why Space Matters for Climate Resilience
Participants at the 2022 Kenya Space Expo & Conference learnt from key stakeholders and experts about the massive opportunity of next generation satellite technology to predict weather, and how it will play an increasingly important role in early warning systems for extreme weather events to help mitigate the effects of climate change, especially in Africa.
According to the World Economic Forum, space technology is shaping how countries and communities adapt to the worsening effects of climate change. 
Satellite data is used to democratize the reach of high resolution data and empower decision makers with timely information about impending extreme weather events, in addition to climate information that's being used to plan mitigation strategies.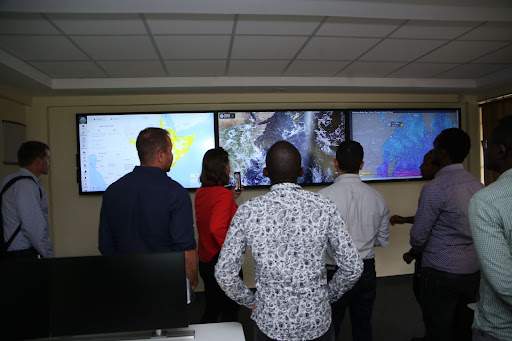 Some Key Examples
Notable stakeholders are using space technology to fight climate change using techniques such as satellite imagery for monitoring different climatic parameters.
The recent launch of Kenya's first operational satellite Taifa-1 by the Kenya Space Agency is a technology demonstrator that's aimed at promoting public awareness about space systems as well as stimulating increased investment in space technology for climate resilience.
The NOAA CRW (National Oceanic and Atmospheric Administration Coral Reef Watch) uses satellite data to monitor the impacts of climate change and establish a sense of how coral reefs are deteriorating amid global warming.
We have also witnessed the emergence of private sector-led space technologies that are leveraging the power of satellites to improve global weather forecasting.
One such example is that of Tomorrow.io (our founding tech partner) who have launched a first-of-its-kind constellation of weather satellites to gather precipitation data.
Notably, Kenya Space Agency's Taifa-1 Satellite and Tomorrow.io's first weather-radar satellite Tomorrow-R1 were both launched into Earth orbit using the same Space X Falcon 9 rocket as part of a smallsat rideshare program – this demonstrates the power of shared goals to leverage space technology for human impact.
Tomorrow.io's space program, which was highlighted by CNBC, is designed to significantly upgrade the current early warning & action capabilities and improve the global revisit rate for rainfall data from the usual three-day revisit rate provided by existing space infrastructure to hourly.
Another example of how space technology is improving life on Earth can be appreciated by how satellite data is being used to help farmers adapt and act in a changing climate.
Digital Earth Africa has taken the important step of enabling free access to satellite data that's being used by farmer facing organizations to better advise agricultural producers for inclusive food security.
The Unique Role of TomorrowNow
As we have already established, Planet Earth requires Space to survive – but the immense potential of these technologies will not reach last mile users if we are not going to make a concerted effort to understand current needs and proactive programming to ensure sustainable and scalable impact.
At TomorrowNow, we have designed programs that are currently accelerating the connection between space data and people through needs assessment studies & stakeholder workshops for capacity building. By leveraging philanthropic capital and innovative partnerships, we are ensuring that next generation space technology is benefiting everyone including the least equipped in society.
TomorrowNow has so far established concrete networks with key stakeholders in Africa for the purpose of enabling the utilization of space data by different users including researchers, farmer-facing organizations and farmers.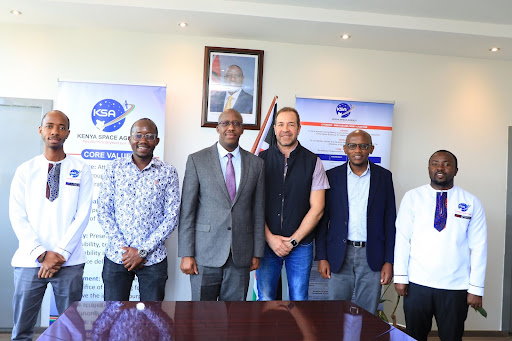 Our proposed partnership with the Kenya Space Agency will go further to ensure the efficient utilization of space technology through local capacity building and partnerships for increased investment in the sector.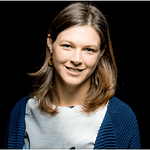 Georgina Campbell Flatter
Georgina is the co-founder and Executive Director of TomorrowNow.org - a global non profit leveraging transformative philanthropy to connect next generation weather and climate technologies with communities in need. Prior to TomorrowNow.org, Georgina spent a decade at MIT where she was a senior lecturer and led global initiatives designed to bridge technology and social impact. Georgina has worked on many innovation initiatives for organisations including: the MIT Legatum Center, MIT REAP, the XPRIZE Foundation, the World Bank, USA Dept of Energy, MIT, Harvard and Oxford University. Georgina is mother of two, passionate about empowering the next generation of STEM leaders, with a focus on women and youth, and is an active member of her local community. She acts as trustee and advisory board member for several charities (The Darwin Centre, Mama Foundation, FOSPs) and is a local Parish Councillor. She read Material Science at Trinity College Oxford and Technology and Policy at MIT.